Contemporary Kitchen Remodeling For Your Dream Kitchen
Renovating a kitchen is an exciting project. But we must not lose sight of what is important: a space that meets your needs according to your budget, whether small or large! A kitchen remodeling contractor will help you reach the desired results and create a beautiful contemporary design that will increase your home's value! By planning this project well and choosing the right Scottsdale contractor and professionals, you'll get more for less.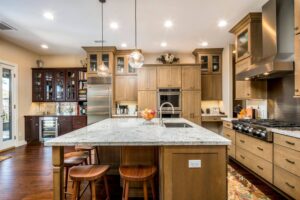 Are you looking for the best professional in the field?
A Scottsdale kitchen remodeling contractor will find the best solutions for your home remodeling project!
Finding a Good Contemporary Kitchen Remodeling Contractor
It's not just the cabinets to replace! Often when we think of remodeling the kitchen, we think only about the cupboards/cabinets. Yet, a complete renovation work involves the collaboration of many specialists.
While searching for the best contractor you need to take into consideration several different aspects.Depending on the size of your project, you may need:
a kitchen designer (to maximize your space);
a cabinetmaker (for the manufacture of cabinets);
a plumber (for moving or connecting the sink);
an electrician (for lighting and moving or installing electrical outlets);
a tiler (for the floor, if necessary);
a countertop manufacturer (for custom countertops);
But above all, a good general kitchen remodeling contractor is absolutely necessary as it's specialized in all areas and will coordinate all the parts involved. The kitchen remodeling Scottsdale team will bring your project to completion, according to your tastes and your budget.
Kitchen Remodeling Importance
This is one of the most important rooms in the house because it's where you spend quality time with your family, a place to cook, entertain and most importantly can increase the value of your home. A contemporary kitchen design will impress your friends and will make you fell at home. So, a redo is absolutely necessary.
If you start asking yourself what are the problems you have with your current kitchen design the following question may come to mind:
Is there too little space to cook efficiently?
Too little space to store food and dishes and silverware?
Are you missing out on some of the latest technology?
Are the appliances inefficient or old?
Is the kitchen simply outdated and even… ugly?
Any contemporary kitchen contractor will recommend making a priority list of things you want in your new kitchen, ranked according to their importance. It is helpful to distinguish between what you really need and what you simply want.
Tips To Help Your Kitchen Remodel Go Smoother
Have a good idea of what you want. Even if you think you know what you want, you may be surprised at the suggestions that an experienced professional could offer. This second point of view often makes all the difference!
Involve the contemporary kitchen contractor early in the process. They help finding the right parts, bring great ideas that can save you money in the long term and will simplify your life.
Have a written plan even if your renovation ideas look simple. A simple, but well-made plan will help the contractor understand the steps of your project.
Reveal you budget. It is difficult (or often impossible!) for contractors to suggest the right materials or solutions if your budget is a secret. By being clear on the budget you have, your Scottsdale kitchen designers will guide throughout to get the job done.
Don't buy prefabricated cabinets. This type of impulse buying can quickly become a problem, especially if you have done it before you have understood the disadvantages of these and have taken the time to compare with the custom ones. The price difference might surprise you.
Consider all materials. Materials are constantly evolving and improving. This is the right time to ask questions and analyze the pros and cons of the many materials available.
It is essential to understand the quality of work that is provided by your Scottsdale contractor, taking into account all the important details. The price at the bottom of the sheet does not say everything.
Go with the contemporary trends. Choosing contemporary cabinets is a good idea: in the passing years, the will still look modern and up to date. Several timeless styles are available and a Scottsdale Contemporary kitchen contractor will be able to boast the benefits.
In renovation, it is better to be well supported and well prepared. This is the key to successful renovations.