Home Remodeling Ideas: Making Your Home Beautiful, Inside and Out
It all begins with an idea.
Maybe it started when you saw an image of a beautiful, spa-like master bathroom in your favorite glossy magazine, a unique board of kitchen counters on Pinterest or a brilliant segment about home additions on your favorite HGTV show.
Or, perhaps you have a few ideas swirling around in your head, but want to get your vision down on paper.
No matter where you are in your home remodeling journey, Republic West Remodeling is here to help. And we hope that your journey continues on with us as your home remodeling partner.
Get Inspired
With Republic West Remodeling, each and every one of our team members is an expert in their field and a trusted friend to over 17,000 clients. Our team members provide:
Expert recommendations to ensure the best solution to meet your needs
Relevant information on your options so you can make informed decisions
Answers to your questions
Design and design assistance
Computer 3D rendering so you can visualize the finished result
Dream a Little Dream …
We realize the true value of comprehensive tools and resources so homeowners can do their own home remodeling research, dreaming and planning.
Be sure to check out the following helpful areas on our website to help stimulate your home remodeling ideas:
Home Tour Videos. This feature showcases some our latest home remodeling projects and gives you an inside look into how we've transformed the houses of our beloved customers into their dream homes.
Home Renovation Ideas and Guides. Our team of experts has come together to publish these home renovation ideas and guides that help you throughout the process from start to finish.
Republic West Remodeling blog.
Client Stories. At Republic West Remodeling, we're proud of the more than 17,000 home remodeling projects we've completed since 1995 – kitchen and bath remodels, whole house remodels, room additions, and outdoor living spaces – all projects that have added value and function to our clients' homes.
Also, take some time to look through our Image Gallery for real-world, inspirational examples of our work.
KITCHENS
BATHROOMS
OUTDOOR LIVING SPACES
MASTER BEDROOMS
LIVING ROOMS
OFFICES
HOME ADDITIONS 
WHOLE HOME
OUR REMODELING STORIES
The best way to go about choosing the right remodeling contractor is to hear from real clients about their experience. Ours were kind enough to share their stories with you.
Learn More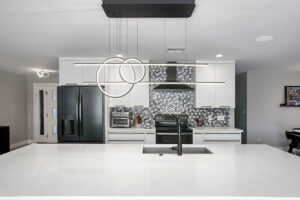 View After Photos A North Phoenix family was thinking about selling their current home in a beautiful neighborhood in the Central Corridor, but after long consideration, they hired Republic West Remodeling and decided to love it instead of listing it. The home has been updated in the past but the floor plan was very choppy and did not flow.  The home prior to the remodel did not have a garage only a carport and the homeowners wanted to add a 2 car garage that would have access to the home. NOTHING WAS LEFT UNTOUCHED DURING REMODELING. After investigating what
Read More
Connect With Us
Find Us On Pinterest

Pinterest is a great place for people to share and find ideas. You can find our boards on Pinterest as well as pins from thousands of other users who have shared unique concepts and designs.

view our pinterest boards

houzz

Ever heard of Houzz? It's a popular new destination for home remodeling and design ideas. With over 7 million interior design photos, decorating ideas and more, Houzz is sure to inspire. Plus, you can find Republic West Remodeling photos, polls and reviews there too!

view our houzz gallery
Schedule a Consultation
Have a question? Ready to take the next step? Contact Republic West Remodeling to help you turn your home remodeling ideas into a reality. Schedule your free, no-obligation consultation with one of our bathroom remodeling contractors today.
FREE CONSULTATION