Inspirational Home Remodel 'Before-And-After' Photos
Buying a new home is a great choice for homeowners who need to make a major change. However for some people, it's just as easy to simply renovate. Remodeling projects – small or large – can add functionality, style and a sense of pride to a home. So, whether you are knocking down walls, gutting out your current kitchen or simply adding a few new coats of paint to your living room, there's inspiration to be found among successful completed home remodeling projects. Check out our gallery of inspiring home remodeling "before and after" projects!
OUR REMODELING STORIES
The best way to go about choosing the right remodeling contractor is to hear from real clients about their experience. Ours were kind enough to share their stories with you.
Learn More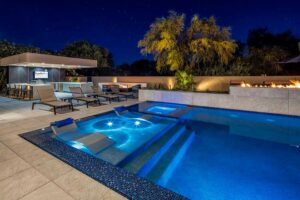 Contemporary Luxury Outdoor Living – Paradise Valley, Az
 View After Photos How Clients Got The 'WOW' With Republic West Remodeling. A Paradise Valley couple had already renovated the interior of their home using Republic West Remodeling, featuring a modern, contemporary design aesthetic. While they were thrilled with the result, it became apparent that their backyard was outdated, and did not reflect the overall approach taken with the house. "We didn't realize the size and usage we had with our backyard," the couple said. "It was obscured by a wall that had an inserted fireplace. And there were rocks and foliage behind there that were not being used."
Read More
Connect With Us
Find Us On Pinterest

Pinterest is a great place for people to share and find ideas. You can find our boards on Pinterest as well as pins from thousands of other users who have shared unique concepts and designs.

view our pinterest boards

houzz

Ever heard of Houzz? It's a popular new destination for home remodeling and design ideas. With over 7 million interior design photos, decorating ideas and more, Houzz is sure to inspire. Plus, you can find Republic West Remodeling photos, polls and reviews there too!

view our houzz gallery
Schedule a Consultation
Have a question? Ready to take the next step? Contact Republic West Remodeling to get a peek inside many of the home remodeling before and after projects we have recently been involved in. Schedule your free, no-obligation consultation with one of our professionals today.
FREE CONSULTATION