5 Kitchen Remodel Features To Complement Your Wood Box Beams
When it comes to remodeling few design choices change space as much as wood box beams. Wood box beams add a classic and functional look to any space, making it feel wider and sturdier. The best part is that it creates a look and identity that you can continue to build on. That's why today we'll focus on 5 remodeling ideas you can consider to completely redefine the way your kitchen looks.
Keep in mind for that any remodeling needs you can count on our team of Scottsdale kitchen remodeling contractors at Republic West Remodeling. So any idea here is within your reach.
Enjoy the view with glass panels.
If you have a view outside you can enjoy why not switch to larger windows or even glass panel doors? Wood box beams provide that traditional countryside house feels to your kitchen, and a way to look directly at nature would complete the aesthetic. On top of that, it considerably brightens your kitchen without the need for lighting.
Light your room with a skylight.
A skylight is another traditional way to brighten up any room, and when paired up with the traditional look of wood beams it adds a rustic look to the entire place. Your kitchen will feel like a country resort at any time of the day, and it will bring attention to your roof and as such to your new beams.
Switch to wood cabinets for that unified look.
Sometimes a classic look is the best, and wood always looks great with more wood. Consider switching your cabinets to a color that matches your new wood beams. This will provide a unified color front to the room and will make your kitchen look more homely.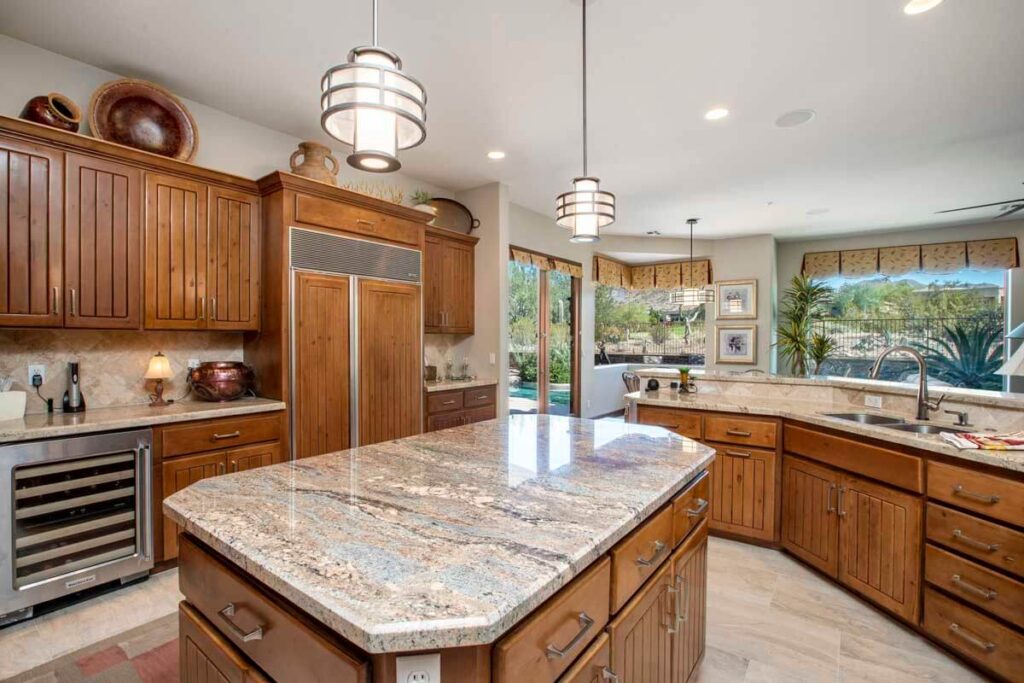 Give your kitchen a black matte finish.
If you prefer contrast then the look a black matte finish provides it's a beautiful contrast with the natural texture of wood. Switching your cabinets, countertop or even chairs to a matte black color will provide a classy contrast that nonetheless melds together in a single space.
Add a fireplace for that rustic look.
Sometimes all you need is one detail to meld everything together. A fireplace can be functional or just decorative, but its traditional aesthetic just goes perfectly with wood beams. Just being able to look at those beams and a simple fireplace design will take everybody back to simpler times. And if the fireplace is functional then you can enjoy a classic meal and not just a classic look.