Thinking About a Master Bedroom Addition? Ask These Questions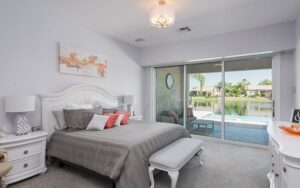 Let's face it: designing your master bedroom is significant as it ultimately is your "escape" inside of your home. It is what you first see when you wake up each morning and the last thing you see each night.
Every master bedroom is different. While the size of your master room impacts its design, remember that personality and your needs are equally important.
Think About the Floor Plan First
When it comes to creating master bedrooms, Republic West Remodeling contractors suggest homeowners consider room size first. For example, if you have a nook for a sitting room or ample space for a king-sized bed, it impacts the room's overall layout and flow.
Deciding where your want your bed is one of the biggest decisions when it comes to master bedroom additions. Key factors to think about include accessibility and view.
Here are some other questions to consider:
Do you have a window you want to wake up to each morning?
Is there one person, or are there two people sleeping in the bed? If so, what will each of you first notice when getting out of bed each morning: a scenic view, an open space, a piece of furniture, such as a dresser?
Would you like a separate sitting area?
Do all of your personal items, such as clothes, shoes and jewelry, need to be in the bedroom?
Do you need a desk, table or place to sit in your master bedroom?
Is a dressing table necessary, or will your bathroom vanity fit the bill?
The Best Approach
Because the master bedroom is such a vital part of your daily life, it is important to use renderings and sketches to help better visualize how a typical morning would begin in each design.
The best approach is to start minimally. If you discover you are missing key aspects, work with one of our professional designers to carefully add them into the design. Begin with an area rug, or maybe even some plants. Start with items that add comfort and warmth to the room (rather than clutter). Remember to also consider lighting and paint color, both crucial aspects of master bedroom design.
Schedule Your Free Master Bedroom Addition Consultation
While you can make many of these decisions on your own, it always helps to have a set of trained, professional eyes assisting you with your choices.
At Republic West Remodeling, we encourage clients to think of their master bedroom as a personal oasis. The best way to go about choosing the right master bedroom addition contractor is not to hear it solely from the professional, but to hear it from clients. Some of our customers have been kind enough to share their stories with you.
Transform your master bedroom into your dream master bedroom. Contact us today for the highest-quality, luxury master bedroom additions. We proudly serve Scottsdale, Phoenix, and the Phoenix Metro area. Call (480) 428-8155 for your free consultation or contact us online.