Bathroom Remodeling Ideas and More
Are you looking for a specialized bathroom contractor? You found the best! The bathroom remodeling Scottsdale AZ team will help you increase your home's value and design the bathroom of your dreams.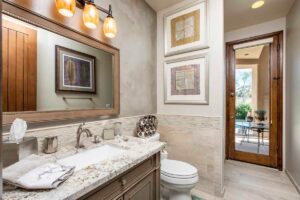 Whether it's renovating a bathroom or adding a new bathroom in the basement (or elsewhere in your home), we go you covered! Our goal is that your bathroom renovation goes smoothly and that's why we only work with the most highly qualified professionals in Scottsdale AZ. Our renovation consultants will be available from beginning to end to answer all your questions.
New Bathroom Remodeling Design For a Greater Shower Experience
Walk-in showers are gradually gaining ground in our contemporary bathrooms. And contrary to popular belief, they combine technical performance and modern aesthetics perfectly. Booths that feature glass walls or Italian showers are becoming more and more popular.
The craze around the glass walls continues to increase, and the bathroom does not escape this trend. Instead of installing a custom shower with glass partitioning, people are choosing shower cabins more and more. The black metal models are ideal to put in a corner thanks to the three-sided designs.
Installing a walk-in shower or a hydromassage shower cabin will make for a greater shower experience, no doubt. Bathroom remodeling contractors in Scottsdale AZ are true specialists in such designs.
Effective Strategies For Hiring Bathroom Remodeling Contractors
First of all you may be wondering why hire a contractor for the bathroom. A bathroom renovation may seem like a project you can do yourself. But if you decide to get started yourself, you'll quickly realize that the amount of work and expertise needed is bigger than planned. Many complex operations may be needed, such as plumbing, tiling, electricity and finishing work.
Engaging a contemporary bathroom Remodeling contractor allows you not only to have a professionally execute your project, but also to make your life a lot easier. In fact, there are specific Scottsdale contractors that specialize in the renovation of bathrooms. They can provide with turnkey services. This means that they can help you from conception to completion, depending on your needs, your budget and your wishes.
When it comes to the most effective strategies for hiring bathroom remodeling contractors one must take into consideration a couple of important factors. The first one is to look for someone that offers turnkey renovation services. You are specifically looking for a contractor who specializes in bathrooms and not a jack of all trades. The contractor will be able to use his expertise and skills in all aspects that impacts the renovation of your bathroom and coordinate the various specialists (designer, plumber, tiler, electrician, etc.).
Only a Scottsdale general contractor holds the required licenses to coordinate the entire project for you. A handyman may be able to replace bulbs or a shower head, but if you want a contemporary bathroom to last for several years and still look like new, then it's better to entrust your project to a real expert. The difference between the two is that the bathroom contractor really specializes in this type of renovation. He will tell you if your plans are feasible, how he will go about doing the work optimally, how long it will take, etc.
The best strategy to find and hire the best bathroom remodeling contractor is to ask these questions:
How long will the renovation take?
Do you provide a complete turnkey solution?
Are there temporary facilities that we can use during the renovation of our bathroom?
How many employees will be involved in the renovation of the bathroom?
Who will supervise the work done?
Will we have to prepare the site or will your team do it?
Is the removal of debris included in your price?
What precautions will you take to avoid any damage to my house?
Is it possible to see some of your past work? Or to obtain referrals from previous clients?
How long have you been in business?
Which suppliers do you recommend?
Bathroom Remodeling Ideas to Increase Your Home's Value
Remodeling your bathroom is one of the best ways to increase the value of your home. Here are the trends and tips to go with to achieve best results:
Washbasin or sink, follow the trend – The washbasin is embedded in the furniture. Pedestal sinks are rare, except when going with a retro style.
Floor and wall resistance and style – The bathroom floor and wall must not only satisfy your design dreams, but must also withstand moisture.
Heating and towel dryer – The use of towel radiators has become very popular. They give a touch of contemporary design to the bathroom while providing comfort. They are very effective if you do not overload them.
Shower or bathtub? – The shower remains ideal, especially for the resale of a property. It's preferred more and more among young couples and families with small children.
Contact us to learn more about home additions and to schedule a complimentary consultation.